30 Years of Survey Experience
The employee survey is a process that takes the "pulse" or "temperature" of an organization. Surveys provide an understanding of employee attitudes and perceptions about the organization. Also, they can gauge employee reactions to changes made in the organization. A Survey is most effective as a diagnostic instrument when the initial survey administration is used as a baseline assessment and the same instrument is administered periodically to measure changes in the temperature of the organization (i.e. continuous improvement).
IEC Diversity, Equity and Inclusion (DEI) survey is efficient, cost effective and accurate. Our normed referenced and reliability tested instrument solicits a broad spectrum of information from employees and managers on issues relating to interpersonal relationships, management practices, fairness perception, trust, empowerment, job satisfaction, upward mobility, and the work environment in general.

Mindset Management's Engage Enterprise Platform provides the listening tools and advanced analytics dashboards to translate employee feedback into actionable insights that drive engagement, culture and inclusion in organizations.

Clients can access their survey results the moment the survey closes. They can:
View the issues that have the biggest impact on engagement or culture.
See how their organization's results compare against internal and external benchmarks.
Track progress over time.
View and analyze open-ended (qualitative) comments according to common themes and sentiments.
Use advanced analytics to segment, filter, and analyze employee feedback across business units and demographics to uncover and target the issues that matter.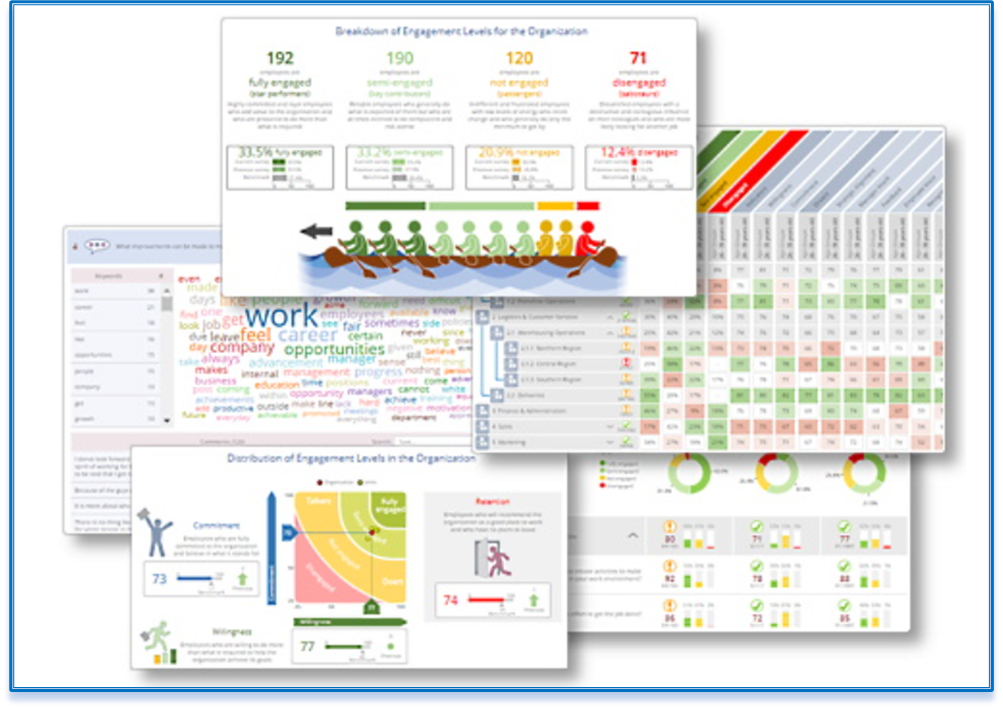 Survey Reporting
The Mindset Management platform allows IEC to provide its clients continuous access to state-of-the-art survey reporting that is fully compatible with PC and mobile devices. Reports can be filtered by business unit, demographics and other factors. Available reports include:
Advanced, drill-down survey analytics dashboard.
Side-by-side comparisons of survey question scores.

Comparison reports using previous surveys or against benchmark data.
Advanced color-coded heatmaps.
Qualitative and quantitative analysis of open-ended survey responses using Natural Language Processing (NLP) techniques to identify the common topics, themes and sentiments.